Just WHO is this Stand-up Chameleon?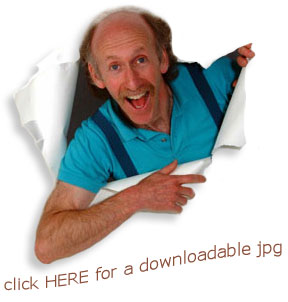 "Stand-Up Chameleon" Jackson Gillman magically transforms himself into a wide array of eccentric characters through his many talents as mime, actor, songsmith and storyteller. As adept with children as he is with adults, his interactive performances are seasoned with skillful dialect, song, dance, mime and sign language. Shining through Jackson's wit and extraordinary versatility is his bemused, warm-hearted honesty. Jackson's humor evolves from finding that which is funny in human beings trying to be human and often tripping over their own being in the attempt.
In 2013, Jackson was featured at the National Storytelling Festival in Tennessee for the fourth time. He has thrice been Teller-in-Residence at the International Storytelling Center and has performed at festivals and schools throughout the country. For twenty years Jackson hosted a summer concert series of comedy, music and New Vaudeville on Mount Desert Island. Presenting a new thematic program each year, he set up comedy/music shop every summer and toured the rest of the year. Year-round he now brings his unique brand of one-man theater to diverse audiences across the nation. Whether performing on concert stages, at colleges, business functions, festivals, school assemblies or libraries, Jackson Gillman delights his audiences with his inventions while touching them with his personal warmth.
A Little Bit of Background please...

My theatrical career began unexpectedly, taking me far afield from my agricultural pursuits and my various migratory New England jobs as a maple sugarer, cider maker, and landscaper/arborist. After graduating in 1978 from the College of the Atlantic with a degree in Human Ecology -- very useful for a theatrical performer, by the way -- I decided to do something completely different for one summer.
What started as a lark -- spending a summer at the Deck House Cabaret as a singing waiter -- grew into devotion as I discovered the ease and joy I found in performing. In subsequent summers, I returned to the Deck House Cabaret, and I soon took a leading role in the musical ensemble's choreography and direction. I also developed a solo act that became a nightly feature. I went on to study many forms of dance and music, take workshops with mime mentors Tony Montanara and Benny Reehl, toured with a children's theatre company, and I established a solo performing career.
My original environmental background finds its way into some of my shows, and my repertoire has expanded to more than twenty different programs, with topics ranging from health and substance abuse awareness, to a variety of thematic musical reviews. Some of my show titles include: Disorderly Conduct, A Dad's Eye View, The Perfect High, A Fool For Love, and Newagelessness. About half of my programs are family oriented, including: Riot in the Garden, BUGS!, Autumn Wonders, and The Magic of Rudyard Kipling. While I'm generally known for my comedy and interactive performances, a more serious side is reflected in programs such as Hard Knocks and The Man who Planted Hope.
What perhaps distinguishes me most from other storytellers is my use of movement in telling. My background in mime and dance is apparent in most of my work, especially Levity in Motion and The Dancing Man. One of my many workshops, Storyscaping, has been very helpful to other professional storytellers in the effective use of movement, space, and visual composition.
Another dimension is added to my work in the four full-length programs that I perform with sign language interpretation. Playing the male lead opposite a deaf actress in Children of a Lesser God (voted Best Theatre in Maine, 1986), reinforced my love of signing. The exposure to that visual language significantly benefits all of my storytelling. Whether I actually am sign-interpreting or not, I approach my craft with what I feel is the core of good storytelling -- to assist the creation and transfer of clear images and emotions.
While most of my work is solo, I regularly welcome the opportunity to collaborate, with musical partners, and with my favorite storytelling colleagues. I believe that when I am fortunate enough to share the
stage with friends such as Michael Parent and Judith Black, the audience reaps the benefit of our synergy. But even when I am performing solo, the stage is peopled with many surprise guests. Many altered egos find outlet in my assortment of eccentric stage personae.
I'm a twenty-five year veteran of the New England Touring Artists Program and also served on the theatre advisory panel for the Maine Arts Commission. I have been a keynote presenter at many conferences and festivals, and featured at the National Storytelling Festival. I hosted a summer concert series for fifteen years on Mt. Desert Island. In some ways, I am a migrant worker, packing up my old kit bag to perform at schools, libraries, conferences, and festivals throughout the country.
And I really do believe that humor can enliven and enlighten any group, meeting, or gathering, and mine is based on a foundation of beneficence, hope, and a belief in the enduring power of the human spirit. Talk with me, and together we can develop a performance program that will be perfect for your next conference, meeting, banquet, or special event.
Full texts of performances, sample videos and other reference letters, with contact information, are available:
P.O. BOX 41, ONSET, MASSACHUSETTS 02558
508/295-0886